Skip to content
IQOS HEETS Mixed Carton - 200 Sticks
Regular price

Sale price

£56.00

Unit price

per
Members collect points >
MHRA Product ID:
Order in the next hrs mins secs soon by for delivery
on using our express service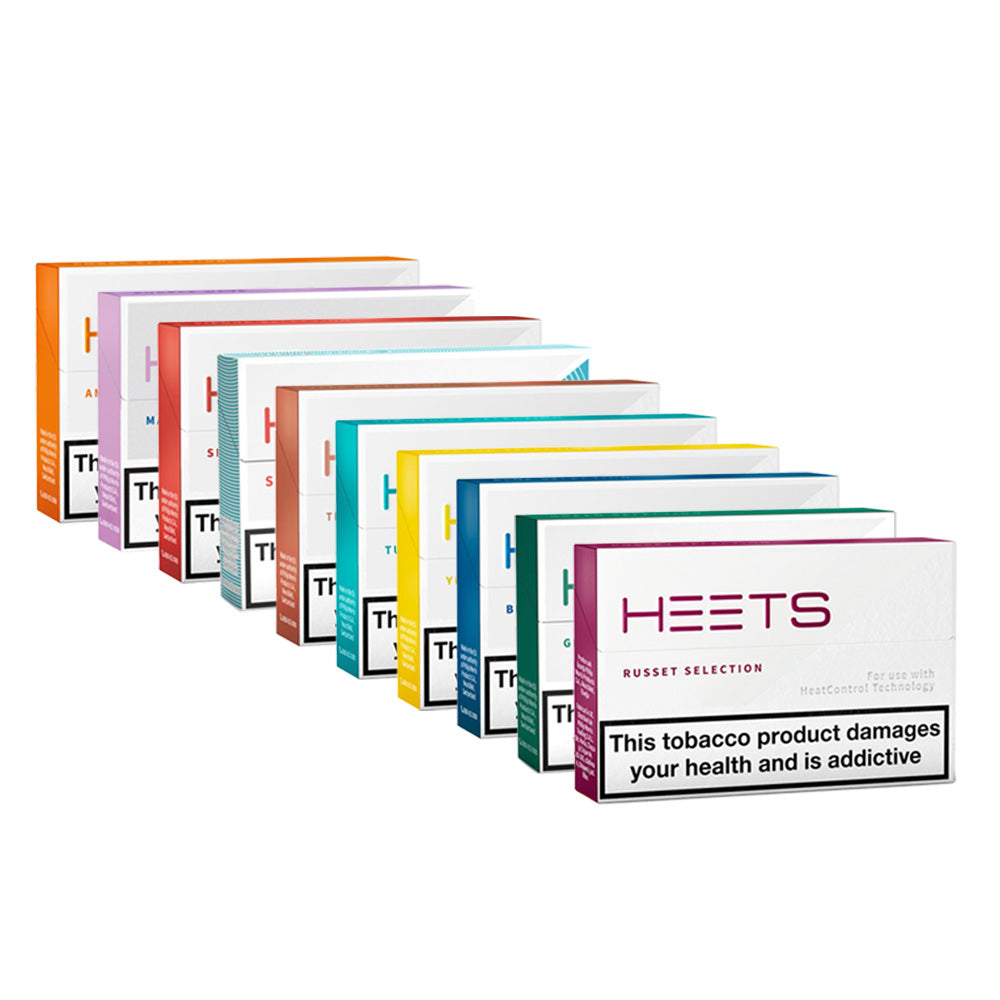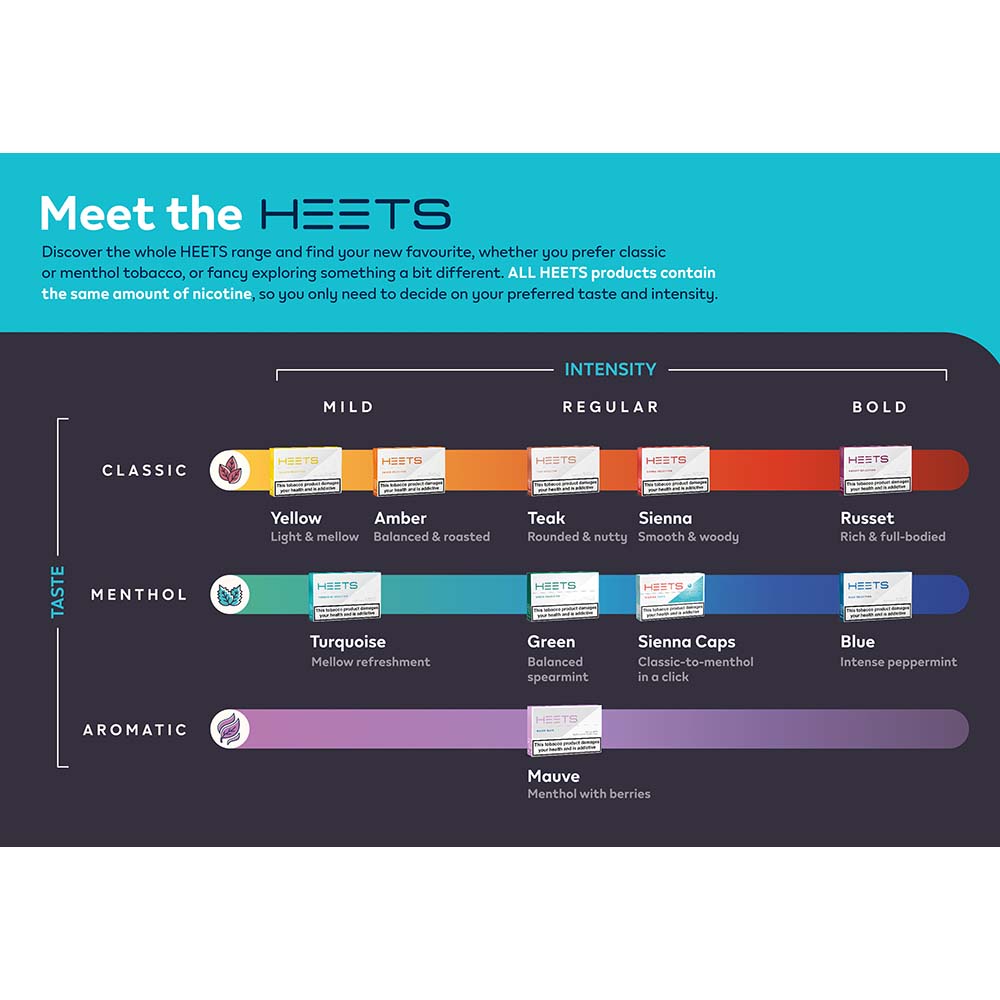 Product details
IQOS HEETS Mixed Carton - 200 Sticks
This mixed HEETS carton contains 10 packs of HEETS tobacco sticks, one pack of each flavour to try them all. Each pack contains 20 sticks, for a total of 200 sticks.
Amber: A rounded and rich tobacco blend.
Blue: A deep menthol flavour, giving an intense cooling sensation.
Green: A lightly toasted tobacco blend providing a balanced menthol cooling sensation enriched by green minty aroma notes.
Mauve: Crisp menthol tobacco blend with a taste of dark forest fruits.
Russet: A rich toasted tobacco blend with malty aromas and bold taste.
Sienna: An intense and full-bodied tobacco blend.
Sienna Caps: A rounded, toasted tobacco blend of Sienna Selection with its woody and light tea aroma, which in a click delivers a cooling menthol breeze with notes of zesty mint.
Teak: A balanced, roasted tobacco blend with a creamy note. Refined nutty aromas provide for tobacco enjoyment with an intense flavour experience.
Turquoise: A smooth menthol blend.
Yellow: A smooth and finely balanced tobacco blend.

IQOS HEETS are real tobacco sticks made for IQOS 'Heat Not Burn' products.
IQOS have created an alternative for adult smokers who would otherwise continue to smoke cigarettes and want to enjoy real tobacco taste without the smoke or ash of cigarettes. This product is not intended for non smokers or ex smokers and is compatible only with the IQOS device. Do not smoke or use with other devices.
Insert a HEETS stick into the IQOS Holder, then push the button and the tobacco stick will be heated to a precise 350°C by the controlled heating element within the IQOS Holder. This will release the true taste of tobacco through a nicotine-containing vapour - without burning the tobacco or generating smoke. As with a traditional cigarette, each session lasts for around 6 minutes which is the equivalent of approx 14 puffs per HEETS tobacco stick.
Each HEETS stick contains 0.5mg of nicotine and other flavour options are available.
Use only according to the supplied instructions and ensure that the product is out of reach to children.
Please note this item can only be purchased & shipped in the UK.
Product features
Only compatible with IQOS Kits
What's included
1 x 20 Pack of HEETS Amber Label
1 x 20 Pack of HEETS Blue Label
1 x 20 Pack of HEETS Green Label
1 x 20 Pack of HEETS Mauve Label
1 x 20 Pack of HEETS Russet Label
1 x 20 Pack of HEETS Sienna Label
1 x 20 Pack of HEETS Sienna Caps Label
1 x 20 Pack of HEETS Teak Label
1 x 20 Pack of HEETS Turquoise Label
1 x 20 Pack of HEETS Yellow Label
Choosing a selection results in a full page refresh.